Milan Italy
Milan or Milano as it is called in Italian is financial city of Italy. It is the second largest in Italy after Rome. Milan as it is a modern city does not have any historical sites as such but it is well known for the lifestyle of enjoying worldly pleasures: Milan is a paradise for shopping, opera, and nightlife. Milan remains the capital for Italian fashion fashion aficionados, supermodels and international paparazzi descend upon the city twice a year for its spring and autumn fairs.
The Straight, The Crooked, The Concave & Other Towers
Just like many European but unlike all other Italian cities Milan is growing fast, a new skyline is turning the city into a contemporary architecture hub. Over the past decade there has been an explosion of vertical construction. New skyscrapers, buildings and free-standing towers are being built next to the historic ones, some even surpassing the golden Madonnina on top of Duomo Cathedral, changing its overall landscape.
Since the 1950s Milan has been dreaming of a city business district. Back then the idea was not fully implemented with very few yet still renowned towers built from great architects and engineers from Gio Ponti to Luigi Nervi, such as Torre RAI (135mt), Pirelli Tower - nicknamed as Pirellone - (127mt), Torre Breda (117 mt), Torre Galfa (109 mt), Torre Branca (108 mt) and Torre Velasca (106mt).
As the new millennium approached, a big change happened with new skyscrapers rising in Porta Nuova & Isola districts to soon become the largest example of urban transformation in the history of the city featuring Unicredit Tower (231mt) the tallest building in Italy, Unipol Sai Tower (126mt), Bosco Verticale building (111mt), Garibaldi towers (11 mt) and many others.
In recent years a new CityLife project is taking place, a stunning residential, commercial and business district, a redevelopment of the historic Fiera Milano neighborhood by Generali Group and Allianz involving the construction of 3 skyscrapers with dedicated areas for offices, stores and restaurants, each one with individual expression, yet all three coupled in a cohesive arrangement in order to create the grand public piazza.
When fully complete in 2020, CityLife will be the largest new civic space and public park since Parco Sempione opened 130 years ago. Thanks to the overall surface of 360,000 m2, CityLife will represent one of the biggest urban renewal schemes in Europe.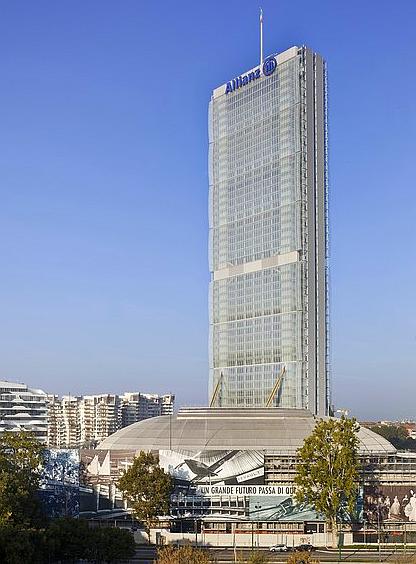 Isozaki's Allianz Tower – The Straight
209 metres high and 2nd tallest building in Italy, it was projected by Japanese architect Arata Isozaki and
it is commonly nicknamed "Il Dritto" for its straight and thin appearance. Its shell fully made of panoramic glass walls gives onto the beautiful lush park of City Life complex affording breath-taking views. The building was inaugurated in April 2015 and was the first building to be provided with direct access to new Tre Torri underground station on M5 line.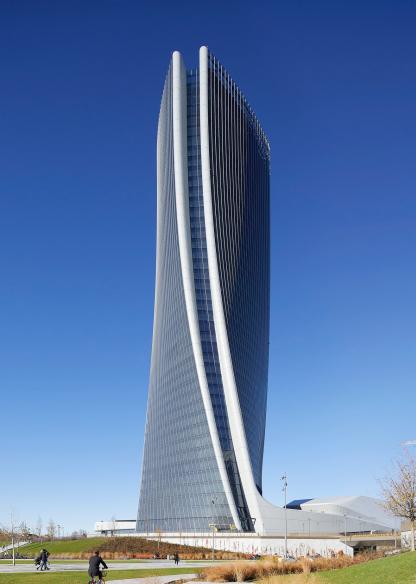 Hadid's Generali Tower – The Crooked
Hadid Tower is the 2nd one built in the CityLife district, an elegant 185 metres high building fully made of iron and glass, evocative of the Iraqui archistar Zaha Hadid's vision of innovation and progress in architecture. Currently named "Lo Storto" / "The crooked one" for its twisted features, the skyscraper is marked out by cutting-edge technologies and by its environmental friendly impact. Again the tower is the seat of a private company – Generali Group – and access is strictly reserved to its employees.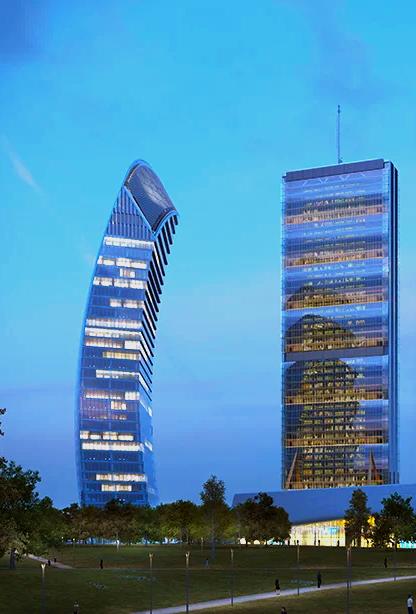 Libeskind's PWC Tower – The Concave
Known as "The Curved One", the last Tower to be built was conceived by its creator, Daniel Libeskind, as part of an ideal sphere encompassing and completing the "Tre Torri" Square. Located between Hadid and Isozaki's buildings, the Libeskind Tower slopes in toward its counterparts and the central park below. The cupola is re-interpreted through the concave movement of its elevation culminating in the crown, both distinctive elements of the project.
Milan City tours and Excursions
Half Day Milan Tour
Full day Milan Tour
Excursions from Milan
How to Get to Milan
By Air
Milan has two international airports, Linate airport and Malpensa airport. Bergamo's Orio al Serio airport (45 km East) and Parma airport (100 km South) are also nearby and mostly host budget airlines for Milan
Travel to Milan by train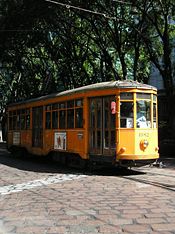 Central railway station The main railway station is the Central Station ('Milano Centrale'), which is served by Trenitalia, the State Railways. Regular express and fast trains serve all Italian cities (Turin, Venice, Rome, Naples, Florence and many others), and some European cities (Barcelona, Zurich, Geneva, Munich, Paris, Stuttgart, Zagreb, Vienna, etc.).
The station building is in itself worth a visit being a masterpiece of rationalist architecture.
Note that the station area is not in a great part of town at night, though in the area there are a number of decent budget hotels (see "Sleep" below) and some business-oriented international brand hotels. In general the area south of the station (characterized by a few skyscrapers) is a business and local government center, pretty active during working hours but almost deserted at night. Should you need a few supplies for your trip, there is a small supermarket in the western side of the station at ground level, as well as cafes and other small shops. Internet points in the main square overlooking the station. In 2008 the station is completing extensive renovation. At night, parts of the Central Station become a sleeping area for vagrants. Usually around the station there are some foreign gypsy children aggressively targeting tourist for pickpocketing, so pay attention to your bag.
The Central Station is served by MM2 and MM3 metro lines and is a masterpiece of Rationalist architecture worth a visit. Taxis stops directly in front of the station (on the sides during the renovation period), and ATM buses on the West side (IV November Square) and buses to Linate, Malpensa and Orio airports on the East side (Luigi di Savoia square).
Another important railway station is Cadorna, served by Ferrovie Nord (North Railways), where the Malpensa airport Express stops and which is also a stop for MM1 and MM2 metro lines.This is a good station if you are travelling to Como Lago station
Garibaldi station is the terminus for most commuter railway lines and is served by the state railways. It is also a stop for the MM2 metro and for the Passante suburban commuter train link
Other main train stations are Lambrate (connected to MM2 metro line), Greco-Pirelli, Rogoredo (connected to MM3 metro line) and Porta Genova (connected to MM2 metro line) for the FS Trenitalia railways and Bovisa (connected to the Passante suburban commuter train link) and Domodossola for the Ferrovie Nord railways. Domodossola station is very close to the city section of the Milan Exhibition Centre - fieramilanocity, also connected to the subway system by the MM1 metro line.
Note that Ferrovie Nord (FNM) and Trenitalia (FS) are two different railway networks, with different stations, different trains and different tickets. For example, if you need to go to Malpensa airport and you are in FS Greco Pirelli, you need to go first to Garibaldi train station, then take the MM2 metro to Cadorna train station and then the Malpensa Shuttle train to the airport. In some cases from Garibaldi station, you can take the Passante suburban commuter train link to Bovisa FNM station (these trains leave from the underground station below Garibaldi station and next to the MM2 underground station. Be sure that the train you take stops at Bovisa). From Bovisa you can get on the Malpensa shuttle train.
By car Milan Road Links
The main motorways linking Milan to the rest of Italy are:
A1, the Autostrada del Sole (Highway of the Sun), a six-lane motorway linking Milan to Bologna, Florence, Rome and Naples.

A4 Westbound, a six-lane motorway linking Milan to Turin, the Westyern Alps and France.

A4 Eastbound, the Autostrada Serenissima, an eight-lane motorway linking Milan to Bergamo, Brescia, Verona, Padua and Venice, and further to Trieste and Slovenia.

A7, a four-lane motorway linking Milan to Genoa, the Ligurian Riviera and the Cinque terre.

A8, the Autostrada dei Laghi (Highway of the Lakes), an eight-lane motorway linking Milan to Lake Como, Lake Maggiore, Lugano and the rest of Switzerland.

A9, a four-lane motorway linking Milan to Varese and Western Ticino in Switzerland.

A50, A51 and A52, respectively the West, East and North Ringroads (Tangenziale Ovest, Tangenziale Est, and Tangenziale Nord) connect the various motorways forming a six-lane ringroad around Milan.

A53, a four-lane motorway linking Milan to Pavia.

The main highway operating company is Società Autostrade per l'Italia.
Because of heavy traffic, it is strongly recommended not to drive in Milan during working days. Driving is much better during weekends. A recommendation is to leave your car in one of the well-marked, huge commuter car parks near several exits of Milan's motorway ringroad; they're managed by ATM and are easily connected with Milan's underground metro lines, but they close around midnight. They're near highway exits in Cascina Gobba (East), Lampugnano (North West), Molino Dorino (North West), Bonola (North West), Rho-Pero (North West), Bisceglie (South West) and San Donato (South East). If you must drive in Milan during weekdays, then make sure you have an up-to-date map showing the one-way system.
Traffic congestion fee - Since January 1 2008, cars entering Milan's central area within the former walls of the city (cerchia dei navigli) must pay a fee (€2,€3, €5 or €10 depending on the engine and age of the car): there are cameras in all entrances to this area and all registration plates are recorded. Payment can be made by purchasing entrance cards at newspaper stands, online or by sms (call 020202 for information). Failure to pay within 48 hours from entering the area implies a fine of €36.
Reach Milan By bus
FS Garibaldi Train Station is also Milan's main Bus terminal.
The main national bus lines are operated by Autostradale, but there are many other small companies offering even international travel.
Get around
Public transport
Milan's efficient public transport system is run by ATM (800 808 181; www.atm-mi.it). The metro consists of four underground lines (red MM1, green MM2, yellow MM3 and blue Passante Ferroviario), which run from 6am to midnight.
A ticket costs €1 and is valid for one ride or up to 75 minutes' travel on ATM buses and trams. You can buy a book of 10 tickets (five double-journey tickets) for €9.20 or unlimited one-/two-day tickets for bus, tram and metro for €3/5.50. Tickets are sold at metro stations, tobacconists and newspaper stands around town, but you can't buy them on board.
Free public transport maps are available from the ATM Info Point (7.45am-8.15pm Mon-Sat) in the Duomo metro station.
Car & motorcycle
Street parking costs €1.50 per hour in the city centre (€2 per five hours after 8pm). To pay, buy a SostaMilano card from a tobacconist, scratch off the date and hour, and display it on your dashboard. Underground car parks charge €5 for the first two hours and between €1.50 to €2 per hour after that.
Rental car companies have offices at Stazione Centrale and both airports.
Hotel Dateo Milan
Alexander Milan